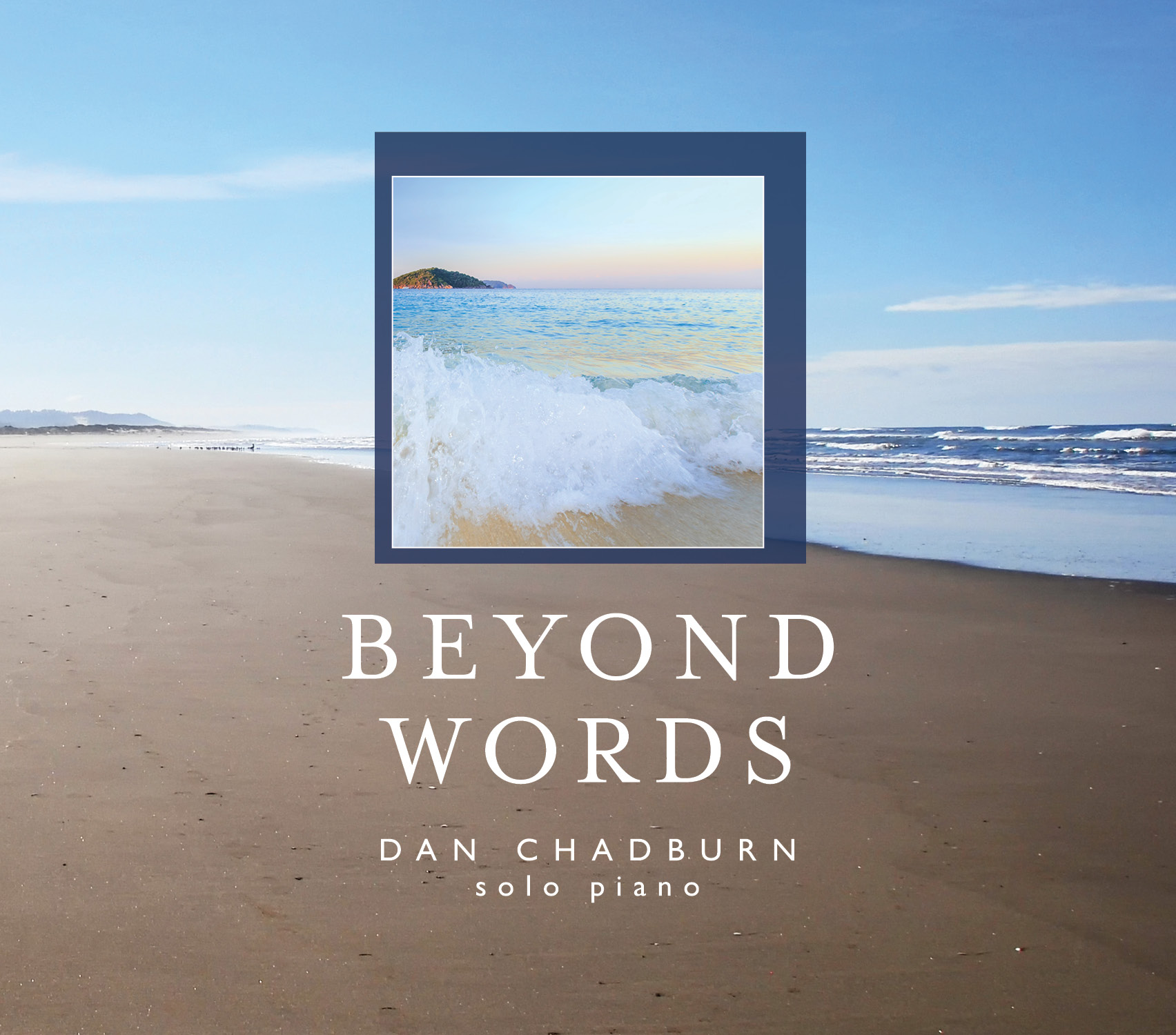 Beyond Words is a collection of original compositions for solo piano
which spans nearly thirty years of my life.

Each song captures a moment of time,
a memory, an emotion, a hope, a desire.

As a shy kid growing up, words often failed me.
Music has always been, quite simply,
the easiest language for me to communicate my innermost thoughts.

I'm incredibly grateful for this life I have been given.
I'm grateful for my family and friends who continue to believe with me
that music has the power to heal and to inspire.

To learn more about the inspiration behind each of the
tracks on Beyond Words, click HERE
---
Here is what reviewers are saying about Beyond Words:


"...astoundingly beautiful...Beyond Words is a standout, a masterpiece,
and a true treasure that stays with us long after the final note."
Dyan Garris at NewAgeCD.com 

"Chadburn really opens his heart when he plays, and his sincerity and deep emotion communicate so well both live and in his recordings…Beyond Words is certain to be named as one of the best albums of the year. I guarantee that it will be on my Favorites list for 2016…I give Beyond Words my highest recommendation!"
Kathy Parsons at MainlyPiano.com

"…One of the most sensitive piano performers on the face of the planet…
solo piano has never sounded so good…
there are few musicians who can perform compositions like this
with the style and sensitivity of Chadburn…"
Steve Sheppard at One World Music Radio

"Beautiful and elegant, the songs cascade with joy,
celebrating life, love and the ineffable mysteries of creation.
A solo piano masterpiece, Beyond Words is a "must" for connoisseurs,
a treasure for public library collections, and makes an unforgettable gift!"
James A. Cox, Editor-in-Chief at Midwest Book Review

"While Dan is highly educated in terms of music theory and technique,
and is by any measure, an exquisitely skilled player,
what comes through in his music is an emotional acuity
with the power to move one to tears, or uplift the spirit in joy.
Sometimes understated and sometimes not, Dan does not seem
to focus on being flashy or ornate in order to show off his skill,
but creates stunningly beautiful melodies that resonate with the heart and soul
of the listener. Beyond Words reflects a rainbow of feelings that reveal the
emotional empathy and deep sensitivity of this most talented artist
and musical communicator."
Michael Diamond at Music and Media Focus
---
Beyond Words was nominated for 2016 "Whisperings: Album of the Year"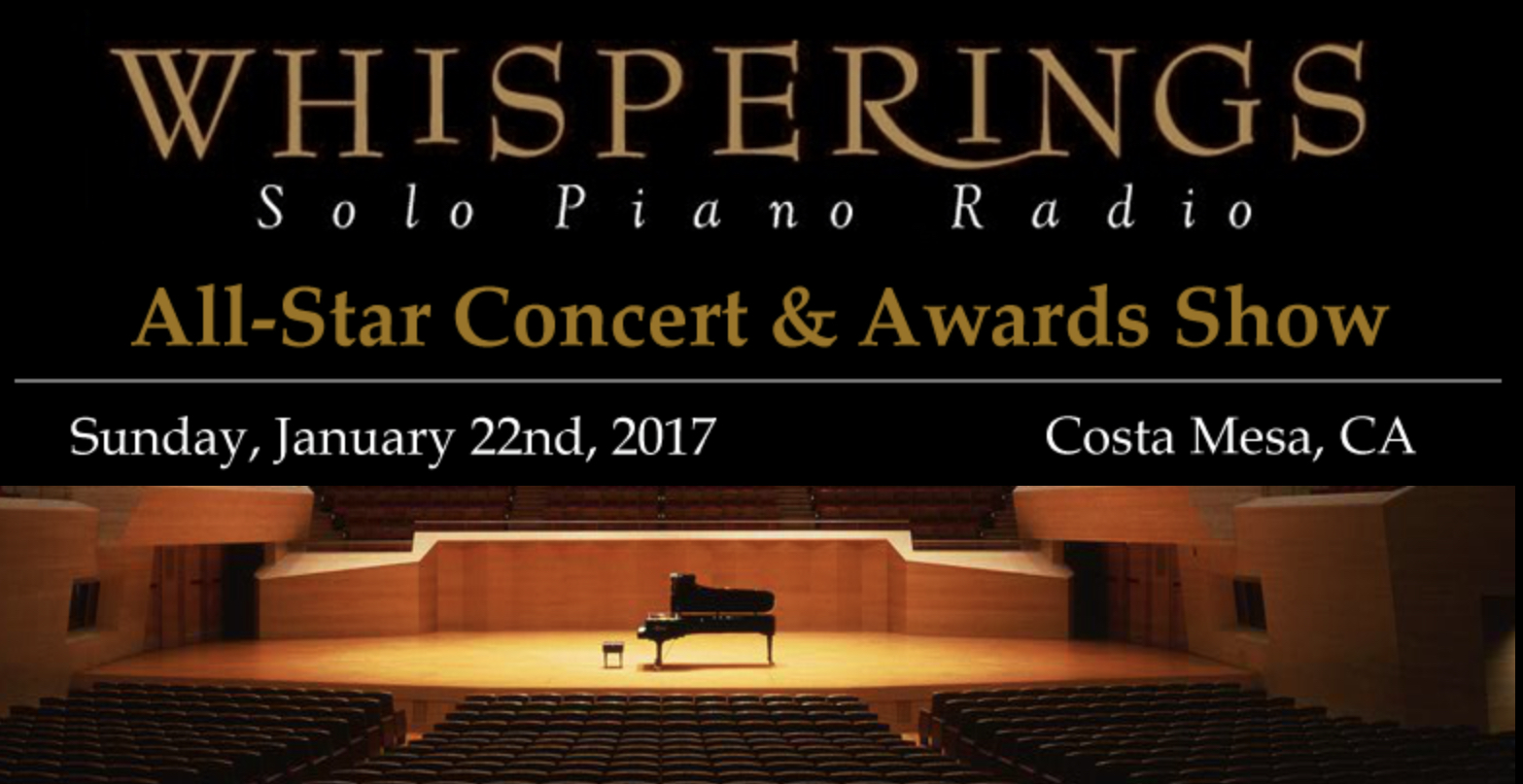 To learn more, visit Whisperings Solo Piano Radio


I performed "Falling Forward," one of my original compositions from Beyond Words at the Awards Show:



 
---
Beyond Words was among the five nominees
for "Best Piano Album - Solo"
by Zone Music Reporter, the industry source for 
measuring radio airplay worldwide for
New Age, Solo Piano, and other genres.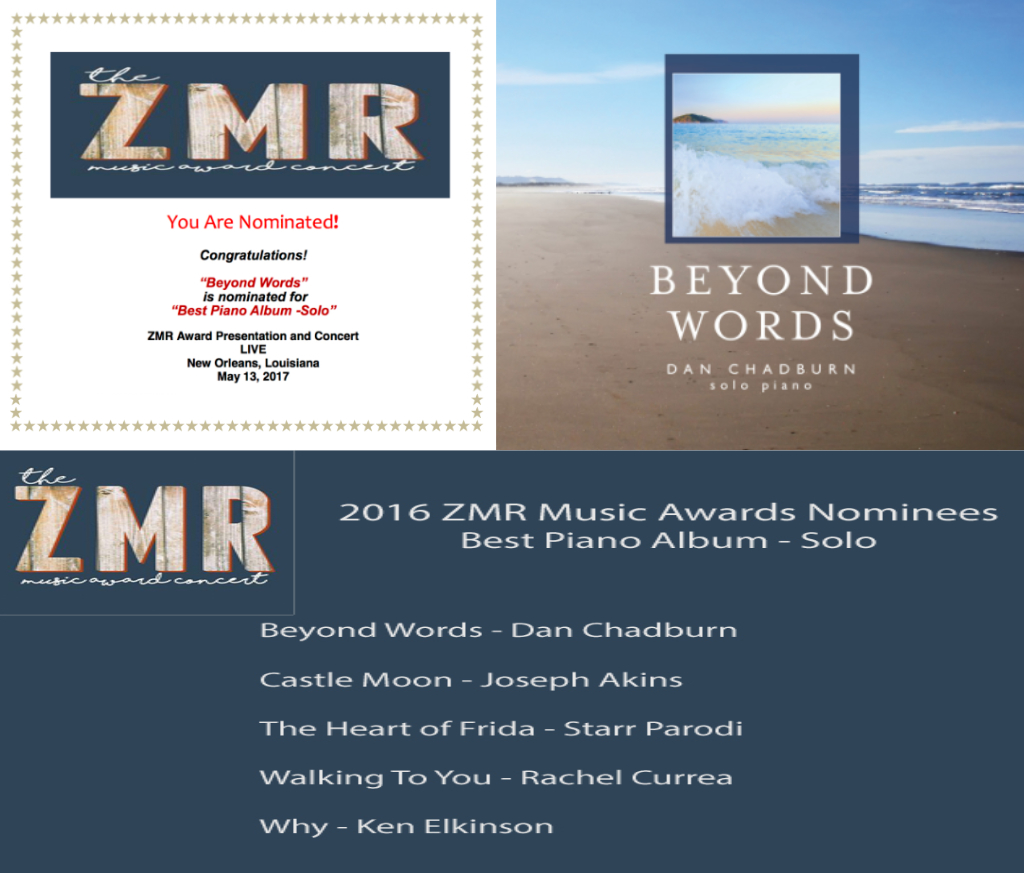 ---
For all orders shipped within the U.S., 
 physical copies of the CD may be purchased directly from Dan,
by using the "Add to Cart" link below!

Each CD is $10.00 plus a one-time charge of $3.00 shipping.
For orders shipped outside the U.S., please purchase at Amazon.com.
---

Radio Promotion and Publicity by
The Creative Service Company

 
---